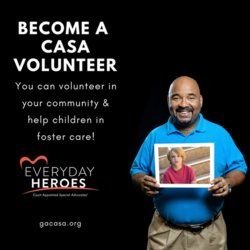 Become a Volunteer
A Court Appointed Special Advocate (CASA) is a trained community volunteer who is appointed by a judge to advocate for the best interest of an abused, neglected, or abandoned child in juvenile court proceedings.
The CASA volunteer gathers information about the child's situation, attends court hearings on the child's behalf, makes recommendations to the judge regarding decisions about the child's future, and attempts to find "forever families" for each child.
The CASA volunteer advocates for the safety, permanence, and well-being of each child.
Benefits of Being a CASA
As a CASA volunteer, you will ultimately help to brighten a child's future.
You will be working to end the cycle of abuse and neglect, while having an opportunity to learn more about the Juvenile Court system and become more actively involved in your community.
You Can Help!
You can make a difference in the lives of abused and neglected children by becoming a CASA Volunteer! Contact us today for more information!
Call our office 770-505-0065 or email recruitment@casapaulding.org